Week 8 (October 13-19)
This week's Male Athlete of the week is Joey DeMarco of Torrey Pines High School!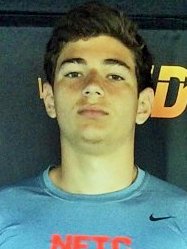 Name: Joey DeMarco
Sport: Football
Position: Defensive End/Offensive Tackle
Year: Senior
School: Torrey Pines High School
Senior defensive end Joey DeMarco played an instrumental role in putting a damper on Homecoming at El Camino. DeMarco provided  pressure for the Falcons, who have won four of their last five games after starting the season 0-3. With a critical sack in the first half, DeMarco and the Falcons kept the Wildcats out of the end zone as Torrey Pines won 14-0 in an Avocado West League game at Herb Meyer Stadium.


Comments
comments