DAN SILEO 6-9am
Dan Sileo has joined The Mighty 1090 as the new host of the morning show from 6am to 9am Monday through Friday. San Diego residents can look forward to a host that leverages his ability to bring inside information, expert analysis and a tell-it-like-it-is outspoken approach and combine those talents with his humorous and entertaining style. Click for Dan's page
JIM ROME 9am-Noon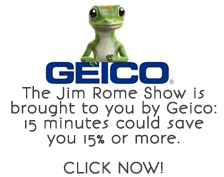 Step into The Jungle with Jim Rome. Rome's nationally syndicated radio program, The Jim Rome Show, a.k.a. The Jungle, airs on more than 200 radio stations each weekday and boasts more than two million listeners.Perhaps the most respected voice in the world of sports broadcasting, Jim Rome is one of the leading opinion-makers of his generation.
DARREN SMITH Noon-3pm
Darren began his (paid) career as a producer at ESPN Radio in Connecticut, working his way from associate producer to Dan Patrick's radio producer in less than a year and has covered the biggest events in sports including the World Series, Super Bowl, NBA Finals, Final Four & BCS Championship Game.As a student broadcaster at St. John's University, Darren served as Sports Director of WSJU Radio and Sports Editor of The Torch, SJU's official student newspaper. Highlighting Smith's collegiate career was his call of SJU's first National Championship, when the Men's Soccer team cut down the net in 1996.
Marty Caswell's passion for sports and her refusal to take NO for an answer has made her one of the most well-known and dominant sports producers in all of Southern California. Click for Darren's page
SCOTT & BR 3-6pm
Scott Kaplan's many years as a college football player and NFL reporter, combined with Billy Ray's "in the trenches" experience as a San Diego Charger & local TV anchor make for Sports coverage at its finest! Scott & B.R. is the show the news makers listen to. The list of guests is second to none. Tune in for the sports, stick around for the laughs. Click to visit Scott & Br
"COACH" JOHN KENTERA 6-9pm
The "Coach" John Kentera brings his unmatched knowledge of local sports and coaching background into play every night. He is a walking encyclopedia of sports trivia and breaks down the game like few can. Coach hosts the popular Padres Pre and Post Game Shows on the Mighty 1090. He is the first to praise a noteworthy performance but not afraid to call out a player, coach, manager or owner when need be.
---
The Mighty 1090 Weekends
Saturday:

9-10am Matt Ross Handicapping Show
Sunday: