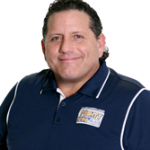 Dan Sileo
Interviews
Analyst for NFL on FOX, John Lynch is getting tired of talking about Deflategate and wants to focus on the game.
Continue Reading »
From the UT, Kevin Acee is not too optimistic about a new stadium coming soon.
Continue Reading »
Jason Cole of Bleacher Report discusses Deflategate and who he thinks will win on Sunday.
Continue Reading »
The Head of the Sports Book for the MGM, Jay Rood explains how much pressure is put on him to make the betting lines.
Continue Reading »

Political Adviser for Mayor Faulconer, Jason Cabel Roe talks about the plans for the city and when the task force should be announced.
Continue Reading »
Previous Interviews »
More from Dan Sileo

The movie started off slowly, sort of like an actual boxing fight. Just like how fighters start to feel each other out, the viewer is trying to figure out Rocky.
Continue Reading »

I've been fortunate enough to call LA Galaxy games for 18 years. That's over 500 games under my expansive waistline as my career has been attached to the sport of soccer from day one.
Continue Reading »

Now that the Chargers have confirmed they are staying put for 2015 and San Diego Mayor Kevin Faulconer told Scott and BR the city and county are working to keep the Bolts in San Diego, it's not too early to put in a few requests.
What would my stadium look like if I were in charge?
Continue Reading »

I've reached the point due to the lack of ideas, vision and the constant restarts in just discussing the topic of a new football stadium, that it's just time.
The Chargers have been talking about wanting a new stadium in San Diego for nearly 15 years. We've had countless renderings.
Continue Reading »