Week 2 (September 1-7)
This week's Mighty 1090 Male Athlete of the Week is Adrian Rodriguez of Otay Ranch High School.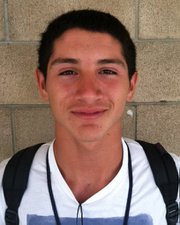 Name: Adrian Rodriguez.
Sport: Football.
Position: CB/WR.
School: Otay Ranch.
Height: 6'1″.
Year: Sophomore.
Adrian Rodriguez had a night to remember in Week 2. The offensive and defensive hybrid totaled five interceptions and caught two receiving touch downs in Otay Ranch's 42-31 victory over Grossmont on Friday, September 5th. Rodriguez is The Mighty 1090's Week 2 Male Athlete of the Week!


Comments
comments