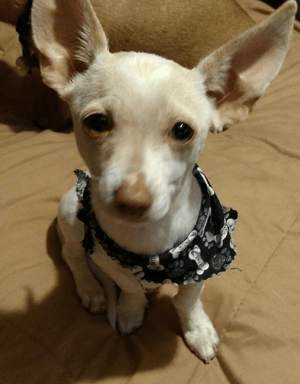 We will be bringing several Chihuahuas who will be at the big SANTA PAWS ADOPTION EVENT on Saturday, but we'll focus on this guy, in particular, and getting the word out about Saturdays event. 100+ animals are counting on us!
Name:  Lindy
Breed:  Chihuahua
Age:  5 month old puppy
Sex:   Neutered Male
Organization:  Chihuahua Rescue San Diego
Phone:  858-277-3557
Website: www.RescueAChi.com
Lucky Lindy was picked up from the side of the road after someone saw her being dumped from a car.  This precious little soul had some head trauma, bumps and bruises, but he's doing pretty well now with the love of a good foster home.  Thank goodness for the good people who did stop and pick him up!  Lindy is just 5 months old, and weighs about 5 pounds. He's a very smart boy, learning good manners quickly and also learning to snuggle and give kisses. Because of his previous trauma, they'd like to find him a quiet, calm household without small children or large dogs.  Lindy and 100 other dogs, puppies, cats and kittens will be available for adoption TOMORROW, Saturday, December 6th, at the SANTA PAWS Mega Adoption Event at the Mission Valley mall from 11 a.m. to 3 p.m.  You can get started right now by filling out an application at RescueAChi.com. And for more information about the event, go to www.SDSHLETERS.org for a full list of participating organizations.
Comments
comments