By Marty Caswell
No one wants to hear about injuries.
Coaches and players will tell you with their very last breath that every team has injuries, that good teams find a way to overcome them. Truth be told, it finally caught up with the San Diego Chargers in their elimination loss to the Kansas City Chiefs at frigid, cheerless Arrowhead stadium.
In one corner of the quiet postgame locker room was Danny Woodhead. In another was Ryan Mathews. The Chargers fourth different starting center of the season, Chris Watt, huddled next to Jeremiah Sirles, an undrafted rookie who made his first NFL start at right guard. Keenan Allen, who broke his collarbone two weeks ago against the Patriots, dressed silently. Allen, who the Chargers kept off injured reserve, with the hope he'd be available for a playoff run that perished in San Diego's 19-7 loss to Kansas City.
The players didn't use injures as an excuse as to why they fell a game short, nor should they. But looking at this team realistically, it was impossible not to notice the game-changing talent not available in week 17. After the game, Philip Rivers was candid as to why the Chargers struggled to only put up seven points in a must-win game.
"This is not a knock of anybody at all, but this is not the offense we expected to have, the one we trotted into training camp. But that is not a knock of anyone, by any means. The guys that have been called to step up have done just that, all year long and in the past few weeks. Like I've always said, I know, and it just comes with the position, that I have to play at a high level in these kind of games."
"It wasn't my best day and it wasn't my worst day. We all had a hand in the loss, but certainly offensively, you're not going to win many when you score seven. We scored seven in three of the last four games."
Watch: Philip Rivers, Corey Liuget & Antonio Gates on Season-Ending Loss
Not the offense they expected? Two starters on the offensive line weren't even on the Chargers active roster when the season started. Center Trevor Robinson, the fifth different starter of the season, was on the Bengals practice squad. Right guard Jeremiah Sirles was on San Diego's practice squad. In place of the injured Keenan Allen was Dontrelle Inman, who caught his first NFL pass no less than one week ago.
The Chargers kept undrafted rookie Branden Oliver as their fourth string running back behind Mathews, Woodhead and Donald Brown.
Ahem. Oliver started today and produced the sole highlight for San Diego, a rushing touchdown for their only score.
At one point in the game, Rivers had completed five passes and been sacked five times. He ended up being sacked a total of seven times, including four times by the fearsome Justin Houston, who set a Chiefs single-season sacks record with 22. (Side note to Tom Telesco- you just might want to shore up the right side of the line with Houston in the division and going nowhere anytime soon.) Seven sacks!
Antonio Gates smiled wryly when asked about the injuries to the offense.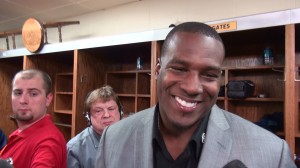 "I don't know if injuries had an impact on this game but I do know we're a better team with those guys in the lineup. We're a darn good team without them but we're an even better team with those guys. If we had an opportunity to have them, we would love to have them because they make us a better football team but make no mistakes about it, the team that we had today going on the field was good enough to win. We just didn't do the right things. They played phenomenal, they did what they needed to do to win the football game."
Gates may feel the  Chargers fielded a good enough team to win but there's a reason they were never favored to win over their last five games against the likes of the Ravens, Patriots, Broncos, 49ers and Chiefs. Too many pivotal, irreplaceable guys had gone down, only to be replaced by the next man up. They simply didn't have enough healthy talent remaining on the roster. That the Chargers started more undrafted free agent rookies against the Chiefs in their pivotal week 17 finale  (5) than 2014 drafted rookies (1) should indicate everything about how the season had gone along.
In the end, the season didn't come down to a choke job by the San Diego Chargers. And Chase Daniel or not in place of the injured Alex Smith, San Diego didn't choke. They simply were no longer good enough.
But Corey Liuget echoed the sentiments of his teammates and refused to consider injuries as a factor in the 9-7 season.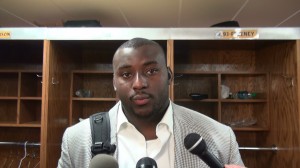 "We're all pros and for me, it's the next guy up mentality. Injuries, we have to put that to the side and just go play football. It sucks to lose and not give that guy (Rivers) another chance at the playoffs. It sucks, man. He deserves to be in the playoffs. He's one of the best quarterbacks in the league and Eric Weddle is one of the elite safeties and Jarret Johnson is a heck of an outside linebacker and you think about those guys, you want to get them back into the playoffs and give them a shot at winning a ring.
The Chargers finally ran out of the next man up.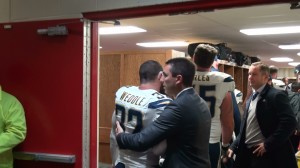 Quotable
"Yes, I mean I feel good. When you finish a season, you're going to have some soreness, the wear and tear of a NFL season but for the most part I feel like I'm a Charger for life. That's my gut feeling." 34 year old Antonio Gates on if he plans to return for the 2015 season.
Gates led the Chargers with 12 touchdowns and 2015 is the final year of his contract.
Notable
The NFL draft kicks off on April 30th in Chicago. The Chargers own unrestricted free agents include Eddie Royal, Ryan Mathews, King Dunlap, Brandon Flowers, Shareece Wright,  Dwight Freeney, Nick Hardwick, Jeromey Clary, Seyi Ajirotutu and Marcus Gilchrist.
Listen
Philip Rivers on what stands out about 2014 season, Antonio Gates & Dwight Freeney on their futures
Comments
comments