By SCOTT KAPLAN
Assuming most San Diego sports fans have yet to make a Seahawks game in Seattle, put it on your bucket list of places you must go.
It is by far my favorite place to cover a game.
This past weekend for the NFC Divisional round versus Carolina, I hit the field at halftime of the early game to start making my rounds; talking to players and coaches in preparation for the Westwood One national radio broadcast.
First on my hit list was Seahawks head coach Pete Carroll.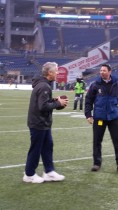 Since his days at USC, Pete has been a regular on the "Scott and BR Show," and I have established a great relationship with him.
When I saw Pete on the field, he was playing catch with his son, who is an entry level coach on the Seahawks' staff.
"How you doing?" I asked Pete.
He answered, "How do you think?"
Pete went on to tell me how excited he was for another playoff run, how healthy his team was at the right time, the crowd he expected and the contribution it would make to a Seahawks win.
As he threw the ball to his son, he signaled for his son to include me in the game. What other NFL head coach is going to have a catch with a visiting network field commentator?
I can assure you, I don't get to do this with Bill Belichick.
After playing catch with Pete, it was time to watch how the QBs warm up. My goal is to make sure I have enough face time with each one, so I can grab the winner for a post-game interview.
First, Russell Wilson, who is just the most incredible physical specimen, is so small!


Seriously, he isn't Doug Flutie small, but he is at best 5-foot-10, and that defies all conventional wisdom of what a prototypical NFL QB is supposed to be.
How he plays at this level, with that body, is a testament to his lifetime of hard work, dedication, and belief.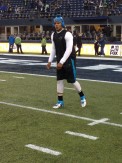 Ironically, on the other end of the field, Cam Newton was getting ready.
These two guys couldn't be more physically different.
Cam is a monster and when he's on the field he's the biggest (tallest) guy in the huddle.
Cam rocks his headphones and you could tell he was in his zone, going through his pre-game rituals.
Thankfully, it was early enough that when I approached him, along with Hall of Famer James Lofton, he was willing to take his headphones off to say "hello."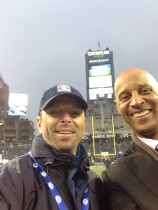 It's good to ride shotgun with James! He is the best, both as a game analyst, and a pre-game partner. We talk to everyone together and they all know and respect James, as do I. James has become a close friend and mentor, and I value our time on the road, as he is full of wisdom and great stories!
All of this pre-game work is rewarded when the clock hits 0:00. I rush onto the field to get to Wilson, after his three-touchdown performance that helped lead Seattle to the NFC title game.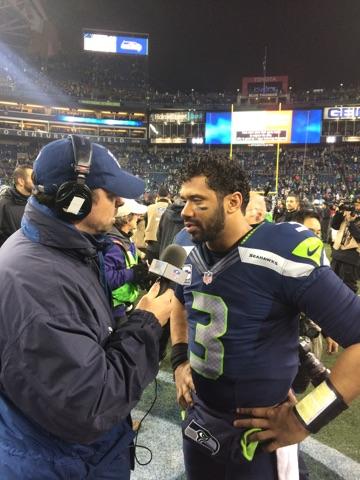 + Contact Scott Kaplan at skaplan@bcaradio.com
Comments
comments