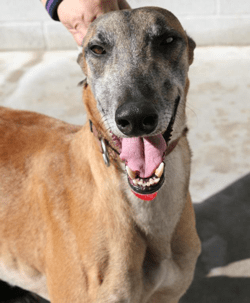 Name: Yellowlegs
Breed: Greyhound
Age: 3 years old
Sex: Neutered Male
Organization: Greyhound Adoption Center, 4821 Dehesa Rd, in El Cajon
Phone: 877-478-8364
YELLOWLEGS is a three year old ex-racing greyhound at the Greyhound Adoption Center. He arrived in November, along with 10 other dogs. All were named for various shore birds. Yellowlegs is just an all around good boy – he is both cat and small dog friendly; he's happy, playful and will make a wonderful companion for an active family with children. All dogs from the Center have a complete medical evaluation, are spayed or neutered, vaccinated, microchipped, and undergo a thorough dental cleaning. They're fully evaluated for temperament and personality, and tested with cats, small dogs, and children before being profiled for a home.
Please come out and meet Yellowlegs and his 45 companions this Sunday, January 19th when the Greyhound Adoption Center hosts an Open House and tour of their facility from 1-to-3 pm. The address is 4821 Dehesa Road in El Cajon. It's a great opportunity to visit with volunteers and learn more about greyhound rescue, rehabilitation, adoption, and volunteer opportunities. For more info call toll free 877-478-8364, visit their website at houndsavers.org, or follow them on Facebook!
SAN DIEGO ANIMAL SUPPORT FOUNDATION
www.SDShelters.com
Comments
comments