By Marty Caswell
February 17, 2015
The San Diego Chargers will have a lot of questions to answer as preparation for the 2015 NFL season kicks off in earnest on Wednesday at the Combine in Indianapolis and none may be more pressing than figuring out how they replace their Pro-Bowl center Nick Hardwick.
Rookie Chris Watt filled in admirably when he became one of five different players called to replace Hardwick, whose season and career ended after an injury in week one versus the Arizona Cardinals. Rich Ohrnberger, Doug Legursky and Trevor Robinson each spent time under center but none are considered serious replacements to start the 2015 season.
Watt, the Chargers 3rd round pick and career guard at Notre Dame, recently joined the Darren Smith Show to discuss the tutelage he received under Hardwick and if he envisions his future at center or guard.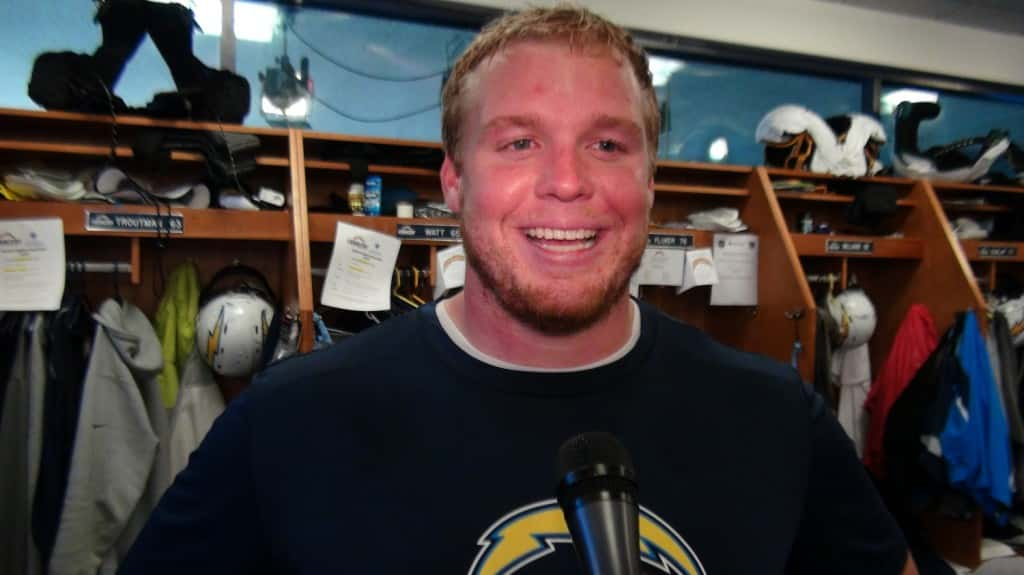 "As of today, I don't know. I think kind of wait until the draft and free agency and all that plays out but my goal in mind is I ended up the season at center and that's where I'm kind of going into next year, so knowing to play both positions is huge, versatility is huge for an offensive lineman, especially in interior positions, being able to play in all three."
"But definitely working more at that center position, I'm going to come back here earlier in April before our off-season program starts and try to watch all the games that I played in and really do a self-evaluation before I start the off-season program and things I might need to work on going into that off-season program OTA's and mini-camp so that by the time training camp comes along I'm really solid in all 3 positions."
Listen to the entire interview with Chris Watt HERE
For Watt, getting a head start during the off-season by going into OTA's and mini-camp with the mindset he'll be at center, makes all the difference.
"Just being able to evaluate the film going into the off-season is going to be huge for me. Being able to read the defenses, picking up on little keys like that at the center position is huge because you're the biggest line of communication in the middle of the five guys so you're really the most important guy as far as communication so working on those skills, that will come when we start OTA's and mini-camp when I can really be out there with the guys communicating but it will really help watching the film and maybe understand the things I did well and the things I could do a lot better."
The eleven years of friendship, camaraderie and trust that Philip Rivers and Hardwick developed as they came out of the 2004 draft cannot be duplicated or replaced, but Watt sees a step in right direction.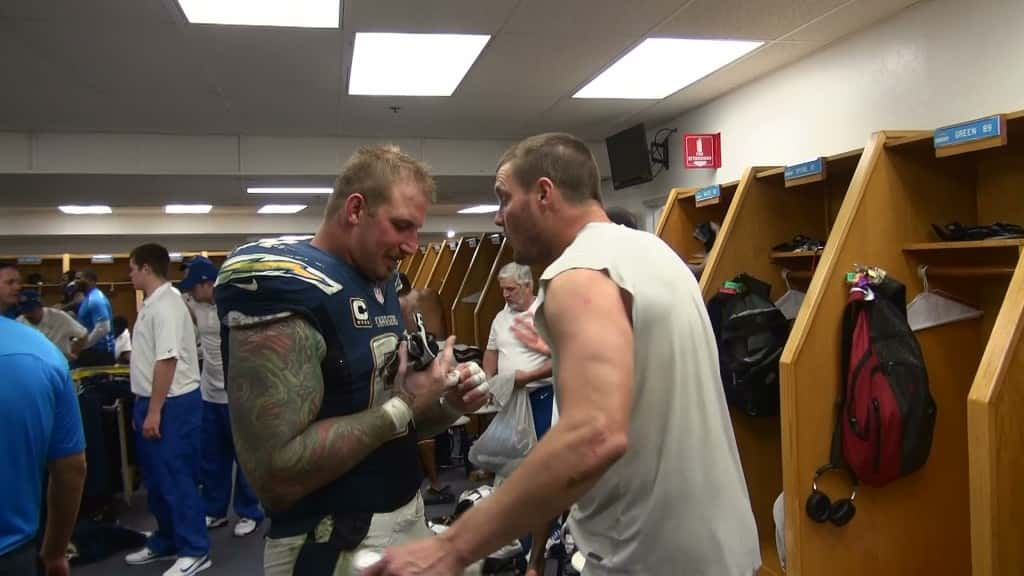 "I grew so much towards the end of the year, having to step into that starting center role. And being able to see what Phil sees, It got better towards the end of the year, started kind of getting on the same page with him and that will only get better as we work together a little bit more. I'm definitely looking forward to building that relationship with Phil." Watt also spoke of the tremendous, lasting impact that Hardwick had on him from the start.
"From the first day I got there, I remember when I got there I was getting shown around the facility by a couple of people on the staff, and they were just talking about how great of a guy Nick Hardwick was and how we're all really going to like him a lot and the first day that I met him, he came up to me, shook my hand, introduced himself right away. I could just tell what kind of person he was and from that day forward, I just tried to pick up as much as I could from him from watching him the weight room, how he worked there."
Watch–
Nick Hardwick on Impact of Jamal Williams & what He Learned from Marty, Norv & Mike McCoy
"And even after he got hurt, he did a great job of when I stepped into that role at center, texting with me back and forth, challenging me to new things each and every week. He was even watching film towards the end of the year when I was in there and giving me tips on how to block this nose tackle better. Before we played San Francisco, he was like 'hey, this guy's doing this and this and make sure you look for these things when you're out there.'"
"For a guy who was going to be retiring soon, that just speaks to the kind of person that he is. Speaking to him as a person toward the end of the year doing that, it was a great value to me and a great value to our team."
General manager Tom Telesco seemed to incur new gray hairs each time one of his centers went down but said the positive was at least seeing and evaluating what Watt could do at center in real-time game action.
"Number one, we know he can play," said Telesco. "Number two, the center position is so important, it's essentially a quarterback of the offensive line and Chris has those intangible skills and he has those smarts and no one's ever going to be Nick Hardwick, but Chris has a bright future so we'll see where he ends up playing, but we know he can play."
Comments
comments