Defending you from the IRS and State Tax Agencies
Fridays 2-3PM PST 866.494.6829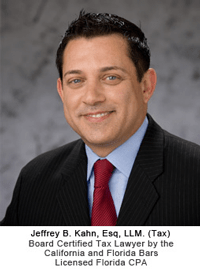 "KahnTaxLaw Radio Show", hosted by Board Certified Tax Attorney, Jeffrey B. Kahn, the principal attorney of the Law Offices Of Jeffrey B. Kahn, P.C. and head of the KahnTaxLaw team.
It is my objective to make you smarter than everyone else so that you legally pay the least tax as possible, avoid tax problems and be aware of the strategies and solutions if you are being targeted by the IRS or any State tax agency. Keeping that Friday hour on your AM Dial full of facts and always a little bit of controversy. I make taxes interesting and relevant to you.
Our show is broadcasted each Friday at 2PM Pacific Time and replays are available on demand by logging into our website at www.kahntaxlaw.com.
Do you have a question for me to answer on the show? Just visit my website at www.kahntaxlaw.com and click on "Radio Show".
Defending you from the IRS and State Tax Agencies
Every Friday 2-3 PM
"KahnTaxLaw Radio Show"
Hosted by Board Certified Tax Attorney, Jeffrey B. Kahn